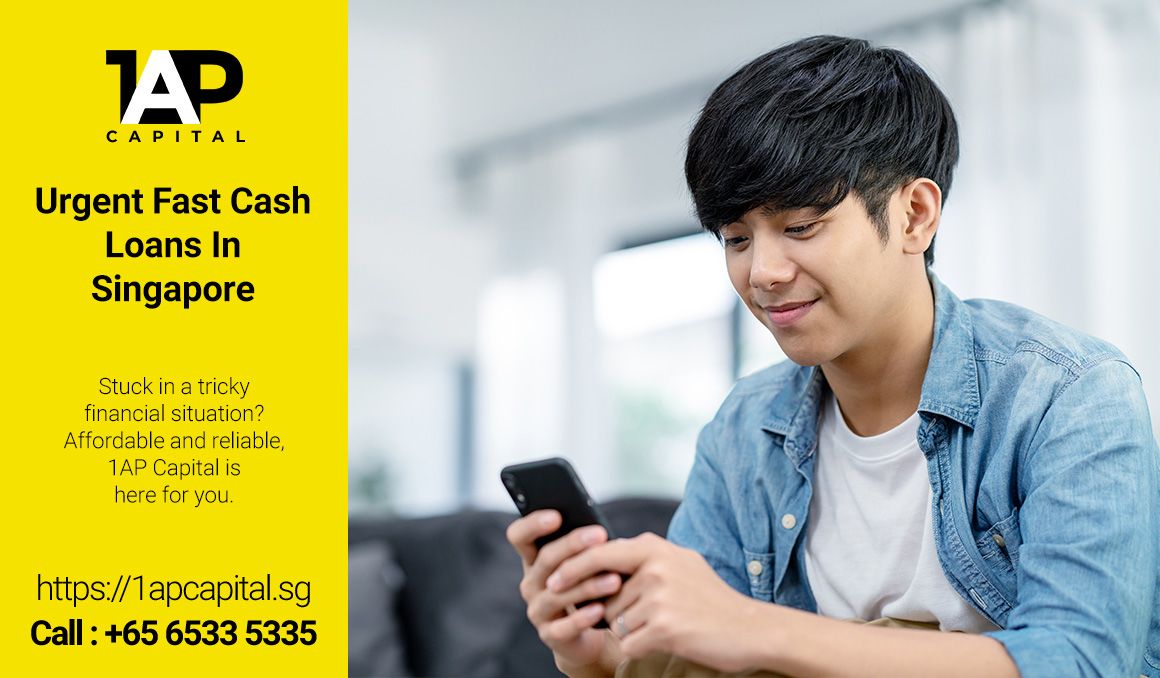 Admit it, there are situations where we all need cash urgently. Be it a medical emergency, a job transition, a credit card debt or simply needing cash for daily use, there are times when we need urgent cash in Singapore.
Urgent loans are popular in Singapore.
They are credit facilities that will enable you to access cash quickly. Most Singaporeans choose to take an urgent loan when faced with situations that require swift financial intervention.
Here are a few types of Urgent Loans that Singaporeans apply for: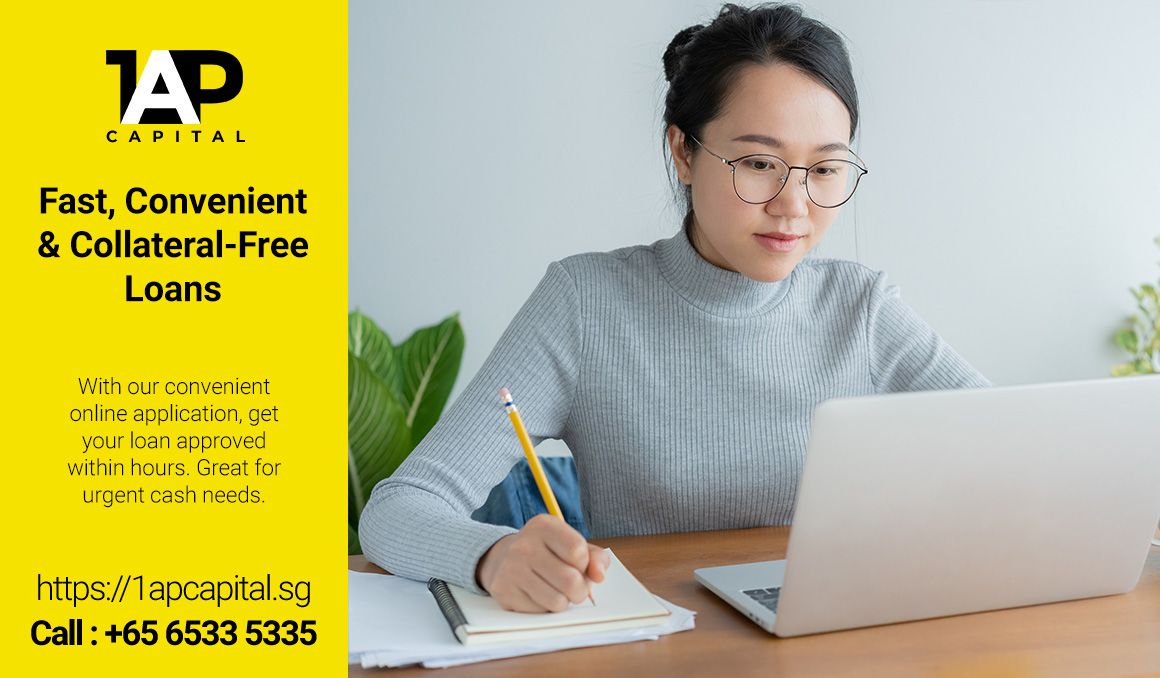 1. A fast cash loan
This is a quick urgent loan in Singapore that allows you to borrow an amount of money that is determined by the level of your salary. When getting the fast cash loan, you will sign a contract which dictates when and how much you have to repay.
You can use this cash to settle urgent bills that may have fallen due before you receive your monthly pay.
2. Urgent loan for foreigners
Are you a foreigner living and working in Singapore? Worry not, for there are loans that cater to foreigners as well.
Urgent loans for foreigners are loans specially customized for foreigners who have a valid work permit in Singapore. In cases of financial emergencies, this urgent loan with affordable interest rates will definitely come in handy.
3. Short-term business loan
Other than personal financial needs, entrepreneurs and business owners might need a short-term business loan as well.
This is a short-term and useful loan that you can apply for. If you need cash urgently to settle business hiccups or funding issues, 1AP Capital will be able to lend you a hand.
The money from this loan is useful as it helps the company resolve its cash flow challenges.
It also helps when revenue is low or when there are upgrades needed. You can use the cash for supplier and bill payments, business promotion and advertisements, inventory upgrades, equipment purchase, room or office rental and business expansion. Short-term business loans are usually approved within a day and quickly disbursed by licensed moneylenders in Singapore.
4. A cash advance on a credit card
You can use your credit card facility to get an urgent loan. There is the option of either withdrawing cash at the ATM or over-the-counter. However, this option should only be used in cases of real emergencies because it is a high-cost credit line.
So, how much can I borrow in Singapore?
In general, you can borrow any amount for secured loans. This is because of the collateral you need to provide.
For unsecured loans, where you do not need to provide any collateral, there are certain loan caps for different income borrowers.
For Singapore citizens and permanent residents who make an annual income of less than $20,000, they will be able to borrow $3,000. If their annual income is at least $20,000, they can borrow 6 times their monthly income.
For foreigners residing in Singapore who make an annual income of less than $10,000, they are allowed to borrow $500. For those who make an income of at least $10,000 but less than $20,000, they can borrow more at $3,000. Should their annual income be at least $20,000, they will be able to borrow 6 time their monthly income as well.
Getting a loan is no small matter. Please do your due diligence and checks before applying for one.
However, if you do want to get a loan, you can consider getting 1AP Capital's Urgent Loan.
The advantages you gain if you apply with 1AP Capital:
– Fast approval rates
1AP Capital's Urgent Loan is as the name is. We are one of the best licensed moneylenders in Singapore and will do our best to provide your loan as soon as possible, should you qualify. With us, you will be able to get the loan approved within a few hours. The documentation required also tends to be minimal.
– Convenient online application
Time is precious. Understanding that, we have made our loan application available online. Save time and get the money you need.
You can conveniently apply for an urgent loan from the comfort of your home or office. It means that you will be able to apply for this loan at any time of the day or night without being limited to submitting your application during working hours. It will save you time and enable you to get the loan processed faster.
– Quick disbursement of cash
Following the urgent loan's approval, the disbursement of cash is usually done within a few hours. This means that you can possibly get the cash you need within a day and solve your financial crisis.
– No need to have a high credit rating
In Singapore, credit scores or credit ratings play a huge part in getting loan approvals. Most of the banks in Singapore may not approve of personal or urgent loans to borrowers with a bad credit score.
However, from previous cases, 1AP Capital has a higher percentage of approval for borrowers with bad or poor credit score. Speak to us to find out more.
– No need for collateral
Most urgent loans do not require you to have collateral. They are also known as unsecured loans. It is a great advantage because you will be able to get access to the funds that you need urgently without the complications of having to look for a suitable asset that can be the security.
Do I really need an urgent loan? Is it something that I need to apply for? Regardless, getting a loan is a personal choice. Weigh the long term pros and cons before deciding.
If one does apply for an urgent cash loan, it can be a great help in different situations.
1. Urgent medical bills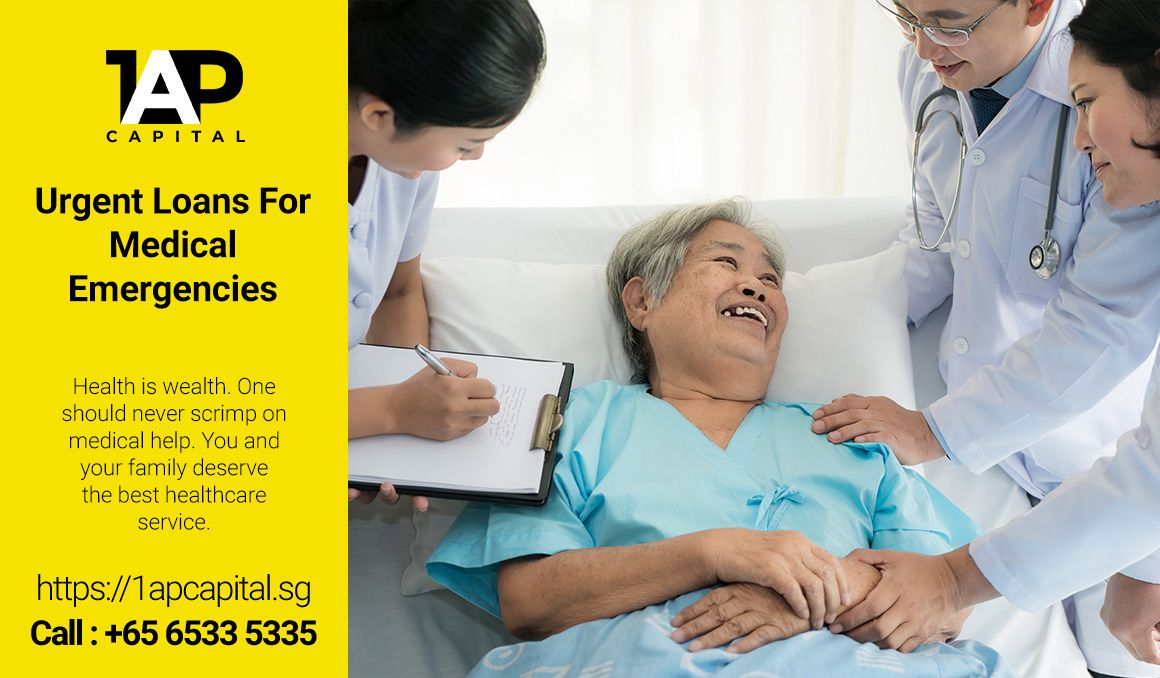 Medical bills usually come up as emergencies. You or your loved one could have experienced a car accident or suffered a sudden illness. It can be challenging to raise the total funds needed to pay the medical bills. An urgent loan will come in handy because you will be able to access cash quickly to handle the medical crisis.
2. Outstanding school fees amounts
The cost of education in Singapore can be rather high. You may encounter a situation where you are unable to pay off the balance needed for your child's fees. An urgent loan is useful in this situation, as you can use it to pay off the fee balance so that your child's education is not interrupted.
3. Urgent car repairs
Your car may need urgent repairs because of an accident or any other mechanical breakdown. If you do not have enough funds to finance all the repairs required, then the cash from an urgent loan will be your answer.
4. Urgent house renovations
You may experience a breakdown in a vital piece of your home equipment. It may include damage in areas such as the plumbing system or the water heaters. Living in a house where such crucial parts of the equipment have breakages can be detrimental to your health. It will, therefore, be necessary to carry out urgent repairs, and the funds from the urgent loan will help sort out this problem quickly.
5. Replacement of essential business machinery
A vital piece of machinery or equipment in your business may suddenly break down, causing a significant reduction in your output levels. You will need to replace this piece of machinery urgently to avoid any further loss of revenue. Applying for an urgent loan will help you to access funds quickly and continue to produce maximum output levels.
6. Unexpected additional monthly expenses
There could be a month when your bills are higher than usual for various reasons. During this time, it may become difficult for your salary to sustain you throughout the remaining days of the month up to payday. In such cases, an urgent loan will help to pay off the extra bills and carry you through the month up until the day that you receive your next pay.
7. Business crisis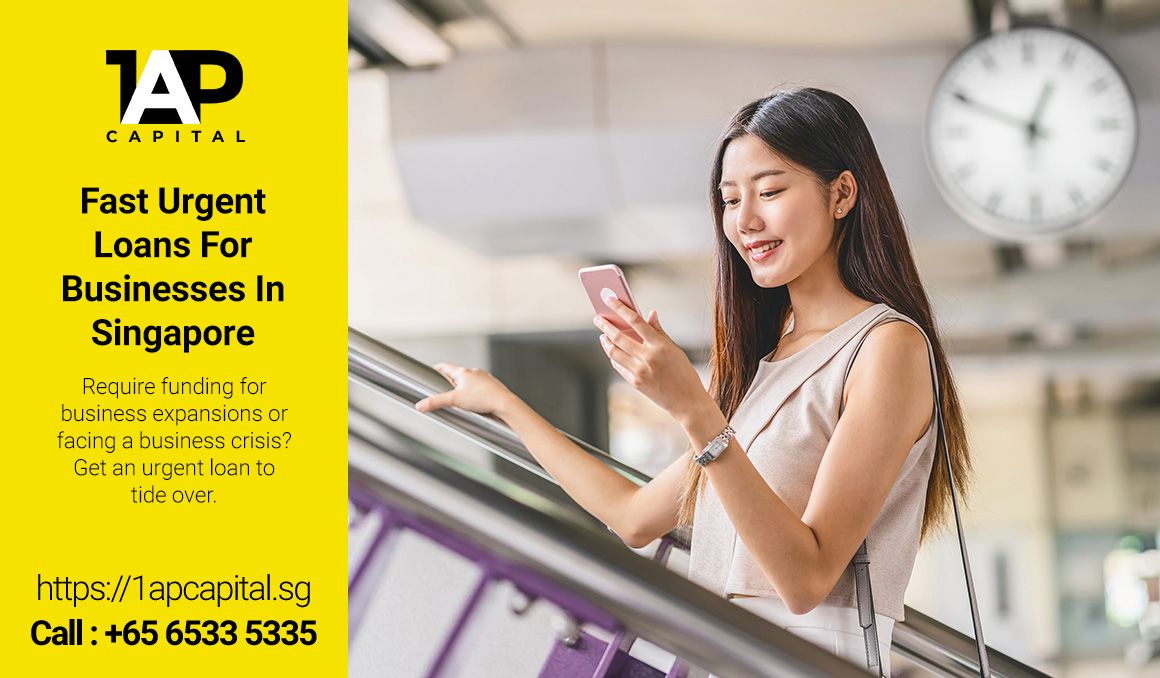 Your business could experience some crisis that may require urgent funding. For example, a fire could break out in your business premises, destroying valuable stock. In this case, the funds from an urgent loan will be of great help because you will be able to continue with your business operations while you recover from the tragedy.
8. Emergencies experienced by foreigners
Foreigners living and working in Singapore usually have emergencies that arise now and then with their relatives who live in their home country. Many times, these emergencies require quick cash. In Singapore, foreigners with valid work permits are allowed to apply for an urgent loan. The funds from this loan can go to their home country to sort out the emergency that has arisen.
In conclusion, an urgent loan is a credit facility that is very useful in handling financial emergencies. However, as you apply for this loan, you also need to have a proper plan of how to repay it punctually.