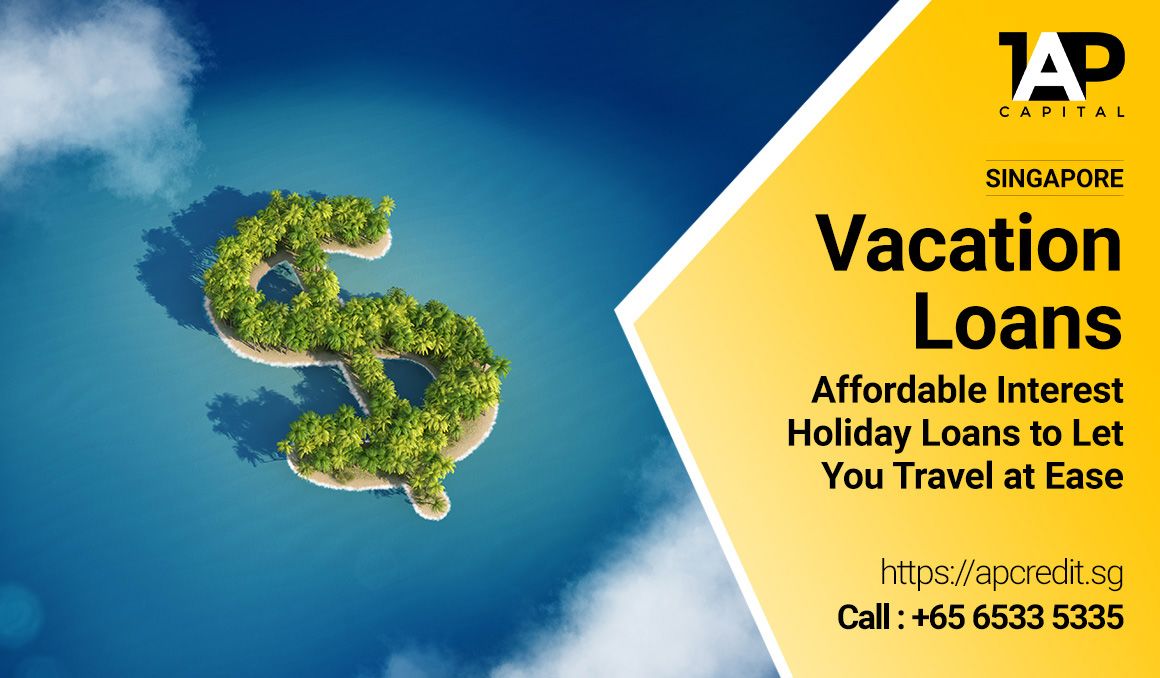 Are you thinking of going for a vacation? If you are in Singapore, you are not alone. Most workers are always laying down elaborate plans to visit top destinations, such as Sydney, London, Manila and Bali. The only problem is that these plans remain an unfulfilled dream due to lack of money. As the cost of living goes up, it is becoming harder for household owners to save for things like vacations.
Here is where 1AP Capital's Vacation Loan / Holiday Loans comes in. If you are looking for an affordable loan to finance your vacation, we have the answer for you.
Being one of the TOP money lenders in Singapore, we have perfected solutions for you in the form of custom vacation loans. A vacation loan might not be the first thing on your mind when you are planning your trip, but it should be as it can help you fulfill your dreams of travelling the World at ease. It is true that financial institutions are wary of lending today due to the tight economic situation, but you have more options in licensed private money lenders like us.
I Am Still Not Sure If I Should I Pay For My Trip Using A Singapore Vacation Loan…
To the big question; is it wise to borrow to finance a vacation? There are many opinions regarding the same and it is advisable to always get facts right before you make a financial decision. Below are some factors that will help you make the best decision when you are looking for ways to finance your trip:
1. Vacation Loans As Best Financing Alternative
You have traditional Singapore loans offered by banks, but the loan process is usually long and rigid. There is also the option of expensive credit cards with double digit APR. Of course, you can definitely risk friendships by borrowing some money from friends to fund your travel. Looking at all these options, a vacation loan from a reputable lender like 1AP Capital is obviously one of the better option. It is legal, flexible, affordable and fast.
2. Vacationing Today is More Affordable
The cost of living across the globe keeps on rising. In top destinations, such as Bali and Rome, it is already expensive today to visit and spend some time. From car rentals, air fares, accommodation and excursions, you expect to pay more in future. As such, using a holiday loan to travel today is more cost-effective in the long run as opposed to saving for years against the backdrop of escalating prices.
3. Plan Your Finances Better
The greatest problem when it comes to savings is the fact that you don't know what will happen tomorrow. Most of the money saved ends up being used in unforeseen emergencies. However, taking a loan for your vacation means you can budget better as you know what will be repaid every month and the loan tenure. Once you are done with your vacation that will be a big tick off your bucket list.
Convinced to apply for vacation financing? Talk to us today and let's make your vacation dream a reality.
Click here to apply
for a vacation loan today.
The 5 Reasons to Apply for your Singapore Vacation Loan
The cost of living in Singapore continues rising and the same situation is replicated across the world. If you are planning a vacation today, you will be surprised by the sharp rise of fares, accommodation and every other aspect of travel. For most people in the country, taking a vacation is preceded by a lot of sacrifices in terms of saving.
In such an environment, it is very hard to realize your vacationing dreams by relying only on savings. This is where a vacation loan comes in handy. If you are planning to visit France or any other European country, you will have noted that the cost of travel keeps rising every year. Your money-saving efforts are thus futile. Luckily, the financial industry has come in to save the day by introducing tailored travel loans to allow you to travel without monetary worries.
The benefits of travel cannot be gainsaid; from health benefits for your mind and body, learning new cultures to expanding your world view, there is much to gain from regular travelling. The demand for vacation loans has seen a proliferation of loan providers.
When applying for a vacation / holiday loan, it is best to apply with 1AP Capital for the following reasons:
Competitive rates: The internet platform makes it easier for consumers to compare loan rates. This is the best time to go to 1AP Capital and get a travel loan.
Informed financial decision: Unlike your traditional lender whose opinion might be subjective, you can now get a diverse range of loan resources and tips online. There are experts specializing in travel loans that help you to make a more informed choice. Do give a call to the lender's office to communicate with the financial experts from different institutions before finally getting a loan product.
Versatile loans: During a vacation, there are so many expenses to cater for including air travel, ground transportation, accommodation, food, sightseeing and much more. Your loan will cater for all these and more.
Fast and quick approval: The loan process is much faster than the traditional banks which take weeks.
A Singapore vacation loan opens a new world of opportunities for you today. Talk to us today to find out more about vacation loans in the market.
Convinced to apply for vacation financing? Talk to us today and let's make your vacation dream a reality.
Click here to apply
for a vacation loan today.