Business Loan for Local Singapore SMEs and MNCs
Starting and running a business in Singapore is tough. Things have not been made easier by the global uncertainties and the economic slowdown in China. Faced with other global shifts such as Brexit, businesses in the country have an even harder time today. At 1AP Capital, we are determined to help businesses meet their goals through our flexible business loans. Our mission is to give a boost to businesses in the country to expand and optimize their operations through easy financing. Our loans for businesses are suitable for any industry including technology, healthcare, restaurants, manufacturing among others.
We appreciate that the existing financial environment makes it even tougher for businesses to access credit. Banks are even more stringent with their money and their conditions are unattainable by small businesses in the country. 1AP Capital is providing a legal alternative to traditional lending for businesses that are looking for financing. We appreciate the important role small businesses play in the economy and we are committed to helping them expand or at least status quo. Our business loans are designed to spur growth in local companies, as this will in turn improve the national economy.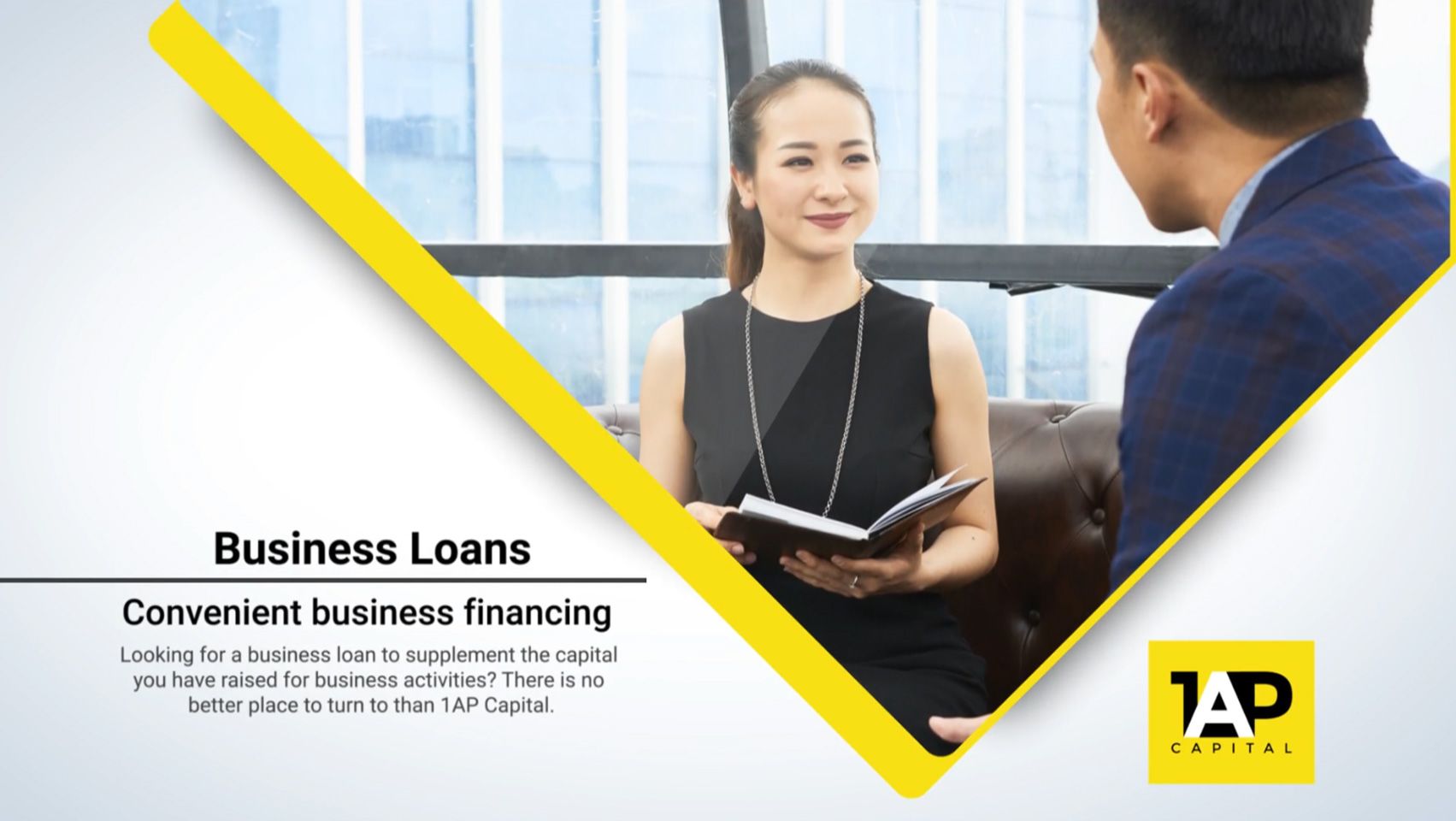 1AP Capital in Brief
We are one of the TOP homegrown licensed moneylender and our business has grown in this tough financial environment. We have packaged our business loans to suit all types of enterprises to help them grow amidst the unfavorable business environment. Whether you are looking for capital injection in your business (company of at least 2 years) or you are looking to buy new equipment for your company, just give us a call. Our loan assistants are at hand to evaluate your financial needs and provide a quick solution.
Our company is founded on trust and integrity and this distinguishes us from other players in the industry. We are fully licensed and our team operates under a high code of ethics. We emphasize integrity in all our relationships and this has helped us become one of the TOP rated business loans providers in the country.
Our team of financial advisors is highly competent with years of combined experience in the financial industry. Our promise is to provide customer satisfaction every time you use our services and this has helped us build a strong client base. We appreciate how hard running a business in the country can get and our streamlined loan process is aimed at making things simpler for entrepreneurs.
1AP Capital Business Loans
A 2011 study in The Entrepreneur shows over 80% of all small and medium businesses fail within the first two years. The main problem according to the findings is limited cash flow. Our 1AP Capital business loans are designed to help make sure your business does not fail due to cash flow reasons. Having established our business in a volatile economic period we appreciate how hard it is to access capital in the formative years of your business operations.
Our commitment is to make it easier for your business to survive despite the tumult in the local and international markets. Our business loan Singapore packages are designed to meet any financial emergencies be it expansion, stock purchases, and advertising among other needs. We have helped hundreds of businesses to stay afloat in the current slow economic situation, and we believe you can leverage our innovative loan products to stay ahead of the pack.
The Loan Process
We have worked in the industry for long and we know most small and medium sized businesses don't meet bank loan requirements. Our aim is to help you access easier financing to ensure your business keeps growing. We have streamlined our loan processes to make it easier for investors to apply and get cash on the spot upon signing the loan agreement. We process your loan quickly as long you have the required documents with you.
To qualify for our innovative business loan products, fill the online application and provide the following over at our office:
NRIC copies of the business directors
Tenancy agreement for the business premises
Current ACRA printout
Bank statements for the last 6 months
Proof of assets
Income tax statements
P&L statement
Why Choose 1AP Capital Business Loan?
While there are many moneylenders in the country, our company loan products stand out. Here are some reasons to choose our business loan:
Easy application and processing: Once you submit all the information required, a loan assistant will give you a call to arrange a meeting at our office to complete the loan application process. Upon signing the loan agreement between you and 1AP Capital, the money will be reimburse to you on the spot.
Flexible loan products: We appreciate every business is unique and our loan assistants will discuss the options available to provide a tailor-made business loan that suits your needs.
Flexible payment schedule: We have optimized our loan packages to make them easier to repay. Our loan assistants will discuss available options and identify the one that suits your business perfectly.
Excellent customer service: We have a team of highly knowledgeable loan assistants ready to respond to any concerns during the business loan Singapore application and the term of the agreement. Feel free to talk to us any time.
You have invested heavily in your business and we want to help your investment thrive. Get in touch for more consultations on our flexible business loans.