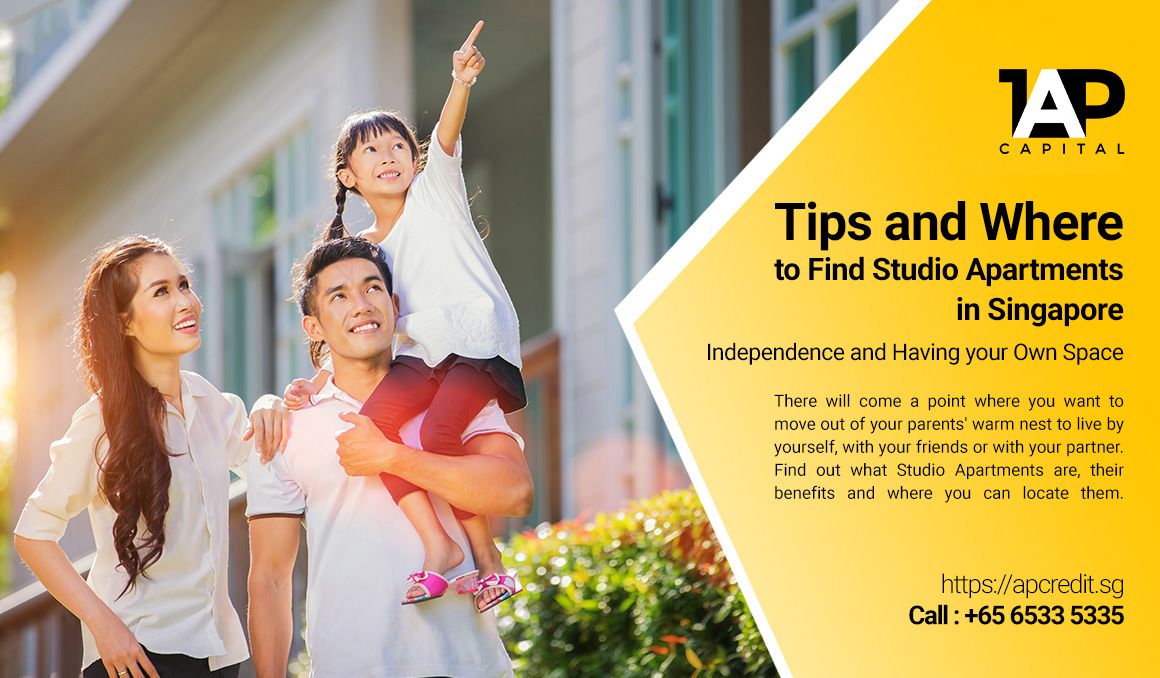 There will come a point whereby you consider moving out of your parents' warm nest and into a place where you can call your own. Thoughts of independence and freedom will cross your mind and you may become excited with decoration ideas and designs. It may be a move to live independently, with your friends or with your partner.
However, many Singaporeans, especially millennials face one similar problem when moving out – insufficient budget. Housing and properties in Singapore are expensive and unless one has a large sustainable amount of savings, it can be hard to find a new home. Renting or purchasing a full apartment with many rooms might take a toll on one's wallet.
Some will compromise by renting just a room in someone else's apartment. This usually comes at a lower rental fee but still allows the individual to have their own space. Nonetheless, it can be troublesome living with strangers and there will still be rules that you need to adhere to. Some landlords may not allow you to cook or keep pets. The whole point of moving out is to find a place where you can be your own boss, a place where you set the rules.
So the next alternative are Studio Apartments.
What is a Studio Apartment?
Studio apartments are a rather new concept that has been gaining popularity in Singapore over the past few years. A studio apartment is simply a small self-contained apartment combining a bedroom, living room, and a kitchen into one single room. It also comes with their own bathroom.
They are fabulous for a single person who wants personal space but are big enough to accommodate couples or friends who are co-sharing space to save on accommodation costs. Landlords do not stay with you and you don't have to share the place with strangers.
Why people live in Studio Apartments
There are thousands of studio flats across the island and most are always occupied. So, what's the secret about studio apartments?
There's less cleaning
The equation is very straight. Less space equals to less cleaning and less maintenance, saving time and energy for the occupant.
Conversely, a multi-roomed house saps one's energy when wiping the large surfaces in addition to taking more time to clean.
Less junk
There's no space so like it or not, one has to finally throw away the scrap that they've always claimed they needed even though it was used five years ago.
Less clutter and minimal mess have been known to improve one's mood and productivity leading to more health-related benefits.
Friendly rent
Perhaps the largest attraction is the price. Smaller space leads to a lower rental fee, making studio apartments pacesetters in terms of affordability.
Also, in outfitting, there are less upfront furniture costs. In an age where cost of living is high and where rental fees are boarding on the insane, studio apartments are a welcomed relief.
Utilities are much cheaper
In the small cosy apartment, there are fewer lights and reduced areas for the air-con to cool.
Thus, astronomical monthly bills become a thing of the past. Cheaper utilities and a cheaper rent are ideal for renters living on a tight budget.
However, it must be noted that the rental fees for some studio apartments are inclusive of the utilities bill.
Centralized location
Studio apartments are typically situated near commercial hubs, MRTs, bus terminals, and interchanges. Some studio apartments were converted from shophouses, leading to unique building designs and structure.
As far as houses and apartments are concerned, location is a big factor in affecting price. The better the location, the higher the price.
Some rental/ property websites in Singapore
Most of studio apartments are advertised online.
Thus, one way of simplifying the process of landing a stylish studio house is by doing an extensive search on some of Singapore's property websites.
Here are the leading ones;
PropertyGuru offers an extensive list of residential and commercial houses. It is one of the market leaders in Singapore's property market and even caters for those interested in new apartment launches by providing a dedicated listing.
This website is able to dominate the housing market mainly due to its quality educative content and related information resources. They release expert video commentary on the current issues affecting real estate shoppers in the country and provide constant updates about property prices and outlook. All these are able to help their visitors make timely and well-informed decisions.
99.co has slowly enhanced its reputation by offering classic flats and condos.
One of the best features of the website is the map-based search which makes it easier to locate ideal properties in different location.
Furthermore, the site has been attracting more listing and is currently advertising over 140,000 authentic properties carefully sorted by 99.co's robust algorithms. The portal also has a highly interactive app. which enables one to hunt for a property from the phone conveniently.
Finally, the site has assembled a powerful team of award-winning engineers, ex-property agents, data scientists, writers, and customer service specialists who go all out to connect home seekers to awesome homes.
Launched in 2012, the RentInSingapore portal has a high number of listings and views.
The site has differentiated itself from its competitors by offering fair rates and having a friendly user interface which makes it a breeze to browse through the available houses.
It updates it's wide array of properties and room listings in real time while the polite customer service representatives are always ready to answer questions from visitors.
The rental website focuses specifically on rentals and helps prospective tenants locate perfect room for rent, luxurious condos or friendly roommates. The site is performing extremely well and has so sold or rented more than 5,000 Homes.
This is an expanded property website that covers lots of property options – private residential, HDB, studio apartments, commercial, industrial, and even overseas properties.
Originally created as an all-in-one property services suite, the portal maintains a comprehensive database of useful resources including informational guides and articles.
One can also learn more about the current market trends, latest property listings, policies and regulations, and the do and don'ts of real estate.
A popular feature in the website is the enquiry function found under the "My STProperty" tab. Using it, all registered users can post a housing-related enquiry with their name, email address, and contact number and have representatives personally contacting them with the relevant information.
This is yet another property website dedicated to apartment and condo rentals in Singapore.
It fills the gaps left by the other websites by going deeper in coverage and publishing updated details of the real estate scene in the country.
The portal even runs its own education TV, the iProperty.TV which has a large chunk of the information needed to guide housing seekers. The listed studio apartments look perfect for business travellers looking for simplicity and economy.
As with the rest, the website's property listings are monitored 24/7 to ensure that house hunters are able to access an updated and accurate database of what's available in this market.
Tips when getting a Studio Apartment
Hire a property agent – property agents can help to save one a lot of trouble and time as they are able to handle the tough negotiations with the landlords. Your agent may help you attain a loan that will not cost you an arm and a leg.
Make use of phone applications – some of the housing portals such as 99.co come along with a phone app which makes the process more efficient and convenient. If notifications are enabled, individuals will be updated as soon as a new property becomes available.
Acquire all details before signing up – occasionally, the information available online may be incomplete. Speak with a customer representative before signing any forms to help clear up the air. For example, the penalty on breaking a lease could be quite hefty.
Check the surroundings – there might be a possibility that one will dislike the neighbours or activities occurring near the home such as the hustle and bustle of an MRT. Check the activities around in order to ensure a cosy living environment for yourself.
Take photos – when on a visit to view the property, take some photos. These will come in handy when narrowing down the choices.
Loans – Before you frown at the thought of loans, think about your monthly expenditure and savings. Certain landlords may require you to foot the fees for several months before you can even move in. It is not wise to spend all of your money on your rent. Getting a loan may lighten your load and reduce the chances of one scraping dollar notes at the end of each month.
Summary
It seems that studio apartments will continue being a force to reckon in Singapore's real estate for the foreseeable future.
Their cheaper costs, easier cleaning tasks, convenient locations and many other factors make them very attractive.
Searching for property information becomes handy with online listings and websites. For example, propertyguru.com has one of the highest number of studio apartments listings and can make things easier.
This article has also looked at some tips including using property agent which is necessary to help win the best deals.