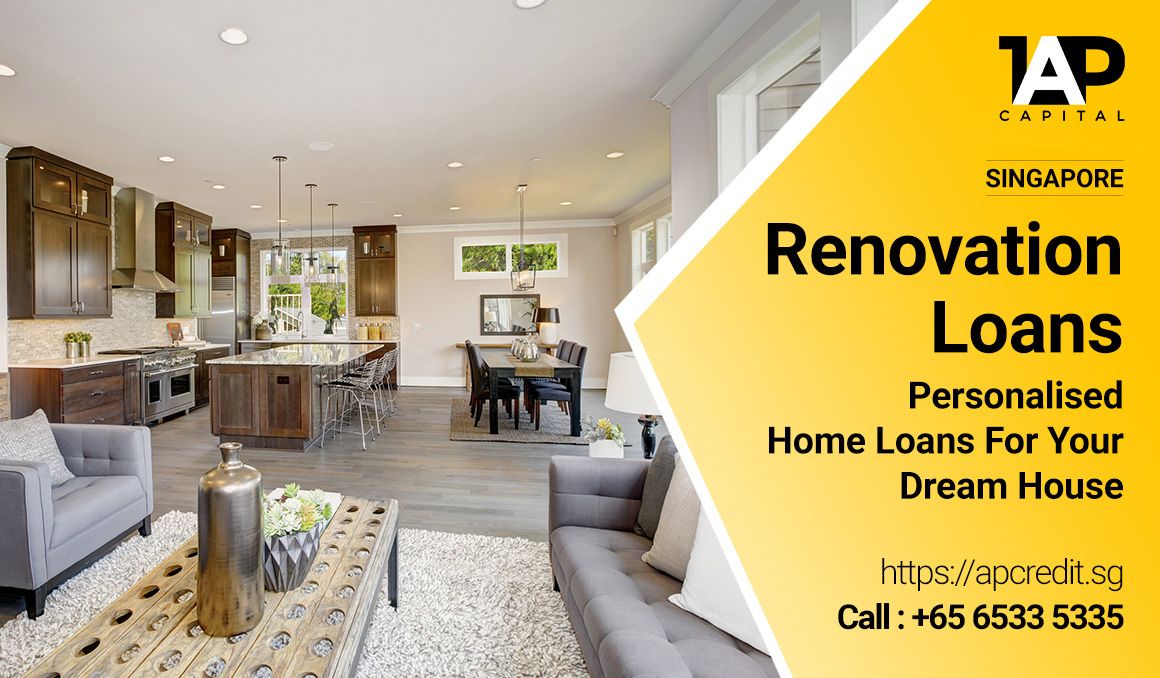 Coming home to a well done home is therapeutic: You get to rest comfortably after a long day at work and spend some quality time with your family.
For this reason, when most people purchase new homes or apartments, they end up renovating them to suit their taste and activities. After all, you're probably going to live there for the most part of your life, so it pays to spruce up your humble abode. Home renovations can also significantly increase the value of your home.
That said, as much as everyone would like to have the luxury of getting a home renovation, some might not have the requisite funds to do so. As if paying such exorbitant prices for a property in Singapore isn't enough, you now have to deal with the prospect of renovation costs.
To put things into perspective, you'll have to set aside an average of $50,000 for a decent home renovation, which covers every aspect like plumbing, flooring and carpentry.
Who would have $50,000 lying around to use on a home renovation? Probably not most of us, which is why a home renovation loan can come in handy.
How Can A Home Renovation Loan From 1AP Capital Help Me?
Instead of over exerting your savings and using it all up for a home renovation, it might be wise considering the option of a home renovation loan. Not only does it help to ease your financial burden, it also ensures that you won't be exhausting your savings that you may have set aside for emergencies.
Compared to a home equity or personal loan, 1AP Capital's home renovation loan are less costly, as we provide lower interest rates, making it easier for you to repay the loan. Our home renovation loans are designed specifically to finance your home renovations and can be personalised to suit your needs. If you need more time to repay your loan, we're able to work out a flexible loan repayment schedule just for you.
The upside of applying for a home renovation loan with 1AP Capital is that there isn't a minimum salary requirement. This means that as long as you're able to prove that you have a steady and stable source of income every month, you'll more or less be approved for the loan. Another benefit of applying for a home renovation loan with us is that the entire loan application process is faster, meaning that you'll be able to get the cash you need, fast. We have an online application form that you can fill in, which our loan officers will then access and get back to you as soon as possible.
With the low interest rates, flexible repayment schedules and quick approval process of a home renovation loan, all you have to do is to get the construction works going and give your home a new breath of life!
What Should I Look Out For In A Contractor?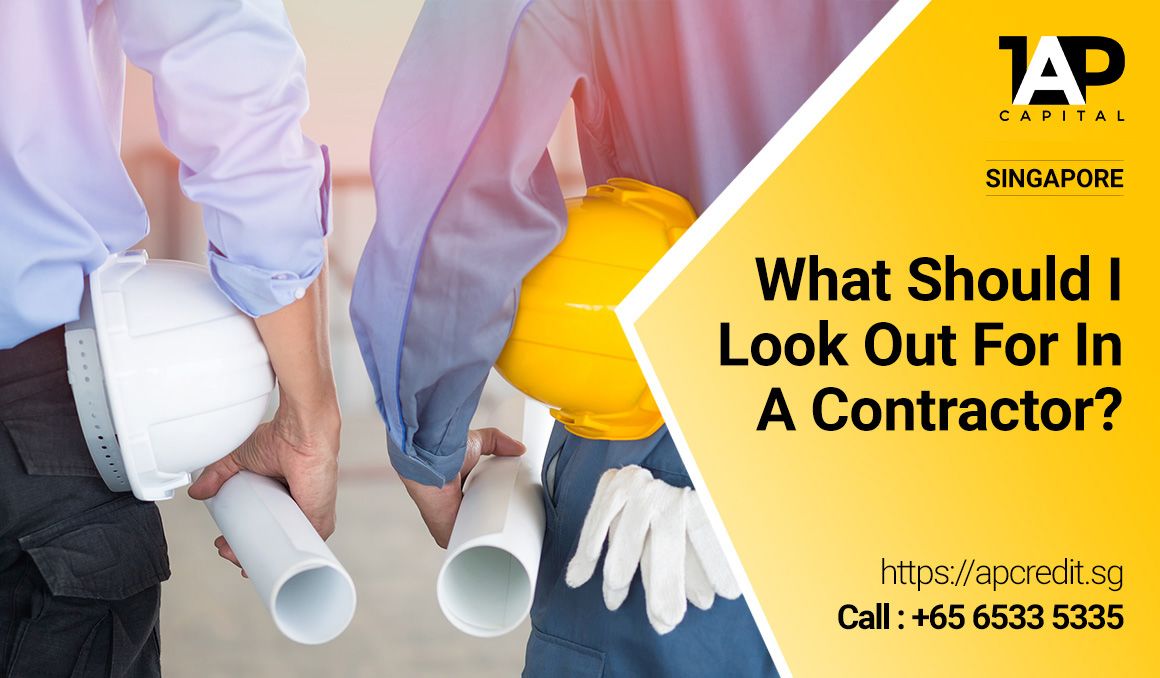 Before your home can get that new and improved look, you must first place your home in the hands of an experienced and trustworthy contractor.
Since most people are not good with DIY renovations, hiring a contractor to carry out the work is necessary. However, with horror stories of rogue contractors running rife, it is important to ensure that you get a contractor that is licensed and registered to carry out their home renovation in Singapore. Here are some tips to help in selecting a contractor:
1. Ensure That The Contractor Is Licensed With The HDB (Housing Development Board)
If you're looking at sprucing up your HDB flat, this is a critical element in contractor selection.
The government has built these houses and gives specifications on the materials used, electrical wiring, space and many other things. They are therefore very particular about the contractors they allow to renovate them. If the contractor is licensed but is not accredited as one of the HDB-approved contractors, then he or she cannot work on the house.
The exception to this rule is if the house that is being renovated is not regulated by the HDB. In this case, you just need to ensure that the contractor is licensed. HDB accreditation can be verified on the HDB website.
2. Accreditation
Any contractor worth his salt will be accredited with a real estate association that is trusted.
This is not a mandatory requirement but it demonstrates the commitment by the contractor to build homes of good quality. Their commitment is to ensure that the homes they renovate are kept affordable and comfortable. They are not just fueled by making more money.
The other benefit is that in case conflict arises between the contractor and you, the body acts as a mediator to resolve the conflict.
3. Request Quotations And Compare Them
It is not prudent to simply pick one contractor and take their word for it. Review several contractors then settle on 3 or so that you can move to the next step of the process with.
Request quotations from the selected few and carry out a comparison. You will be surprised to find that the price range may vary quite significantly. The quotation should be detailed as well, breaking down costs e.g. design cost, cost of materials, labor cost and the like.
By going through this process and understanding what one will be paying for the job at hand, misunderstandings and misconceptions are eliminated.
4. Review The Agreement Thoroughly Before Signing
Once you have settled on a contractor, allow them to draw up the contract and remember to review it thoroughly.
If the language used in the contract is full of jargon, you can request for them to customise it and use language that is easy to understand. Never begin your home renovation works till you have thoroughly reviewed the contract and signed on the dotted line.
Be sure to ask question where things are not clear. It may also be a good idea to have your lawyer read through it before signing. The contract should have an attachment listing all materials to be used, additional products and services that they will be rendering. Ensure that you receive and itemised bill.
5. Read Up On Renovation Best Practices
Research is key and there is no harm doing additional homework when you're going to be spending $50,000 on your home renovation. Though this may seem like a waste of time, it can actually help you identify poor construction work or points in the contract that appear out of place.
You can also get more information of the best practices in renovation and construction of housing from the Building and Construction Authority (BCA) website.
6. Discuss The Work Schedule
Before signing the contract, the contractor should discuss the work schedule with you so that you'll know when the renovation ends.
Usually, the contractor provides renovation milestones and their completion date. The completion date must be well indicated so that there is no room for confusion. It's also important to list how the payments will be made and at what point.
If the contract asks for 100% payment upfront, do not sign it. There may be an initial down payment, but the remaining amount should be paid little by little until the work is finally concluded.
7. Defect Liability Clauses
These are important because they act as a warranty for the homeowner. Basically, the contractor is liable for any defects that show up in the work done for a number of months. Usually, the liability clause covers a period of 12 months. It is prudent to carry out an inspection of the work done as much as possible because the contractor will not necessarily raise the alarm on any defects.
What Should I Look Out For In The Contract?
Most renovation novices tend to sign contracts with their contractors without taking the time to go through them because they do not have knowledge of what they should be looking for in the contract. Or simply because the contract is too long. Here is a quick list that can help anyone looking into home renovation in Singapore:
1. Scope Of Work
The contract must spell out the scope of work in detail. This may be a tedious process but it could save you a lot of money and disappointment as well.
A good example is that of building additional kitchen cabinets. The details should include which materials will be used in doing so, the finishing that will be used and even which brand of hinges will be preferable. Obviously, high-quality materials tend to be more expensive and this can actually make a difference in the quotations you get from different contractors.
Also find out if the contractor has included GST (goods and services tax) in the quotation.
2. Work And Payment Schedule
The importance of this cannot be overstated. An example of what one should be looking for is:
Down payment – 10%
Demolition work – 15%
Concrete and masonry work – 15%
Carpentry – 15%
Electrical work – 15%
Cleanup and Painting – 15%
Completion – 15%
All this should be in writing within the contract.
3. Required Permits
Now that open floor plans are all the rage, many people purchasing HDB flats are looking to bring down a wall or two. This is great, but you will require permission from the HDB in order to do so.
Permits from the Building and Construction Authority are also required if you're living in a landed property. Those living in condominiums will need to ask their management for approval and in some cases, may need to ask the Strata Corporation for approval as well. You are tasked with ensuring that he or she has all the necessary approvals.
What If The Contractor Doesn't Honor The Agreement?
Everyone has heard of such horror stories where the contractor abandons a job half done. It becomes important to ensure that the contract stipulates penalties for the contractor as well as yourself, if any is found in breach of the same.
The clauses may read something like the contractor will pay the homeowner a certain amount of money per day, for days going over the stipulated deadline, or that should the homeowner fail to make payments as stipulated by the contract, the contractor can drop his tools and halt the work until the day the payment is made.
Mediation must be included in the contract in case conflict arises. Bodies such as Consumers Association of Singapore are an excellent choice for this because they are a neutral party.
With all the above points, you should now be able to give your humble abode a whole new look! If you still have any queries with regards to our home renovation loan, you can always chat with us to find out more. Alternatively, you can also fill in our loan application form and one of our loan officers will get back to you.