Personal Loans 2020 for Singaporeans and Foreigners at Low Interest Rates
As the global uncertainties continue hampering the country's growth, it has become even harder for household owners to access an easy personal loan. Banks are even more stringent and people with poor credit scores are finding it harder to access credit. This comes against a backdrop of increasing financial needs in these uncertain economic conditions.
What can you do to get a quick personal loan in 2020? Look for 1AP Capital Today.
At 1AP Capital, we are committed to providing easily accessible credit to all customers without any bias. We appreciate that emergencies can arise any time and our customized loan Singapore packages are designed to offset short-term monetary needs. We understand that urgent financial needs can occur in the middle of the month when payday is a week or two away. We are one of the top licensed moneylenders with years of experience in the financial industry, making us one of the best alternative to traditional banks. Our team of financial advisors is always ready to provide clients with information that will help them make the right decisions.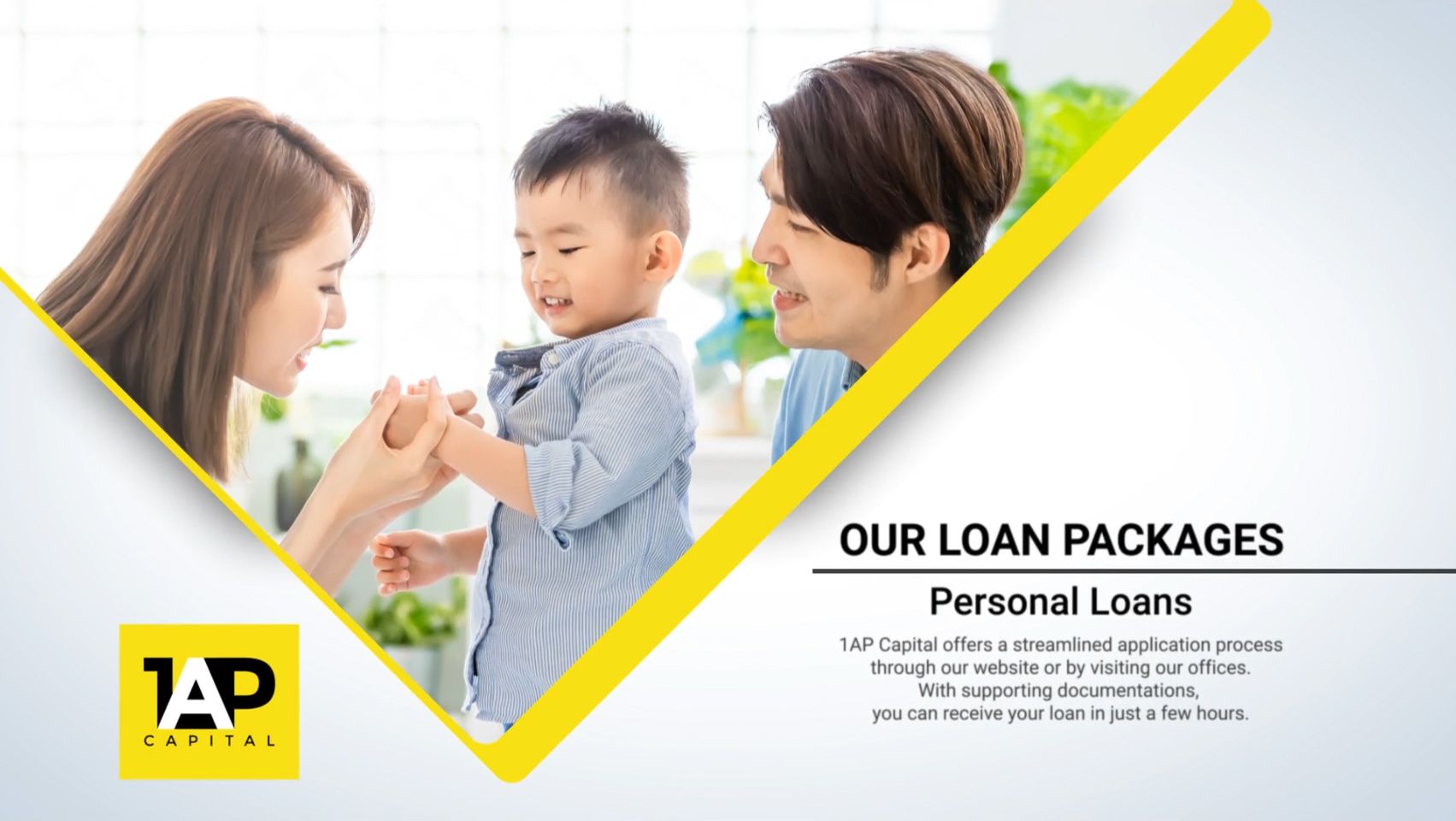 1AP Capital Low Interest Personal Loans for Bad Credit in 2020
We understand that every individual has unique needs and for this reason, we don't offer a one-fits-all personal package. Our team works with every client to design a loan package that fully fits their needs. Having bad credit and afraid that you do not qualify? Not to worry. At 1AP Capital, our customers come first and we will always provide flexible services that will meet your needs.
Our personal loan products can be adapted to any unique short-term financial needs our customers have and we promise to exceed your expectations. With our personal loan, you can meet any type of short-term financial needs be it renovations, school fees, medical emergencies or any other pressing financial need.
Our loan products can up to $120,000 or more depending on your monthly income. Your loan assistant will help explain how much you can borrow comfortably.
We are committed to making our personal loans easily accessible. We promise to offer fast cash services once your loan has been approved and you can receive the money on the spot. Our online application form now makes it even easier for customers to access their loans. You just need to come down to our office, sign the loan agreement and get your cash.
Why Choose 1AP Capital Personal Loans?
Some reasons that we are the best in the industry:
Flexible repayment: We have a team of loan assistants to work with our clients in determining the best loan products. Our financial advisors will look at your income and advise accordingly. Our promise is to give a loan package that you can easily pay. If you have problems repaying the loan, call us today and we will come up with an alternative repayment schedule.
Fast loans: When you bring along all the required documents, once your loan is approved and loan agreement signed, there are no delays in providing you the cash. You get your money fast because we believe in efficient services.
Confidential services: At 1AP Capital we guarantee to protect your privacy and our database is fully secured. We keep all your personal details in our possession under total protection throughout.
No hidden charges: At 1AP Capital, we are guided by trust and integrity and we are transparent in our agreement with no hidden charges. Our loan assistant will explain every payment detail to you so that you have the confidence to sign the loan contract. Our goal is to make our clients happy and we do this by being forthright.
Customized packages: We understand financial emergencies vary and our loan assistant will work with you to customize your personal loan package.
Easy loan application and processing: Our online application form is simple and our aim is to offer you the cash to enable you to sort your emergency as fast as possible.
What Is The 1AP Capital Advantage Over Other Lenders
As one of the TOP licensed money lender in the country, we pride in having a strong client base. Our loan assistants are well versed in the financial industry and this makes our customers happy. We boast a high rate of return business from happy clients and many referrals. Our company is founded on integrity and efficiency and we are always repackaging our loan products to suit emerging financial needs. We adhere to the highest code of ethics as set by the regulator.
If you are looking for the best personal loans in the industry, don't look any further. At 1AP Capital, we promise to exceed your expectations by offering highly flexible products.
Talk to us today if you need a personal loan, and let us help you in any way we can. We're always ready for you. Call us now at +65 6533 5335.

How Does The 4% Low Interest Rate Curb In Singapore Money Lending Rule Affect Borrowers?
With the economic situation in Singapore still precarious, most people have had a hard time accessing credit. This comes against a backdrop of escalating prices and global shifts that have affected the country's economy in a big way.
One of the major concerns against this backdrop has been the rise of increased rates in the financial industry. A 2015 Study by researchers at the National University of Singapore (NUS) showed that interest rates varied wildly and this was piling more pressure on borrowers. The charges especially by money lenders have also been a big issue and this prompted an intense look at the financial industry to make things easier for borrowers.
The money lending industry in Singapore is undergoing phenomenal changes since the introduction of stringent rules in October 2015. The recommendations by the Moneylending Advisory Committee that were adopted included a 4% cap on interest rates. This strict rule also touches on penalties on late payments to stop charging of exorbitant fees by moneylenders. The new rules come at an opportune time as the MAS has also introduced stiffer lending rules for banks.
We are pleased to inform you that we follow strictly to the 4% cap on interest rates.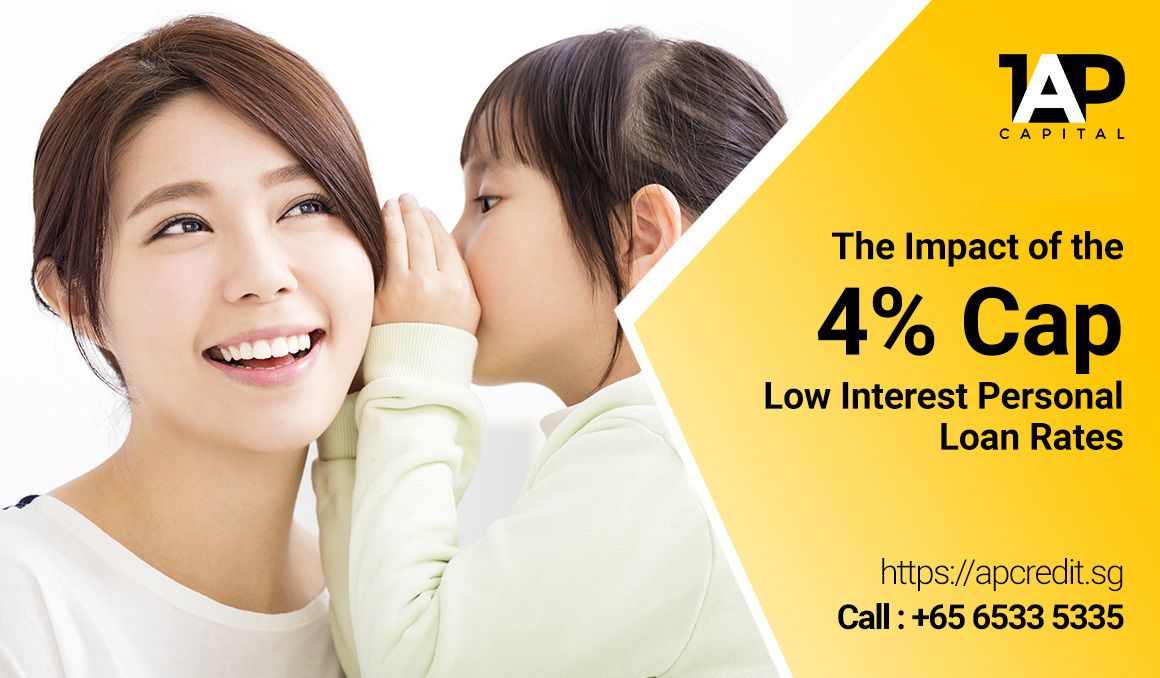 The True Impact of the 4% Cap Low Interest Personal Loan Rates
As a borrower, it is important to appreciate how these new changes of the low interest loan rates will affect you. Here is a brief breakdown of the changes:
Interest rates: The new set of rules set a 4 per cent as the maximum nominal interest rate (NIR), which means

better payment rates for borrowers in the country

.
Late interest rates: Before the rules, these were tagged on monthly interest rates but they have now been fixed at 4% maximum making it easier for borrowers with financial difficulties to afford repayments.
Additional fees: Some borrowers have been charging extra fees but the committee's recommendation stopped such charges forthwith. Borrowers can now expect cheaper loans from the moneylenders.
Administrative fees: The previous existing situation had no administrative fees but moneylenders can now charge 10% maximum upfront fee. If moneylenders use this allowance, borrowers will lose the benefits they had gained from other rules.
The impact of the October 2015 rules is still being felt but moneylenders who had fervently opposed the new regulations are now seeing an upsurge in the number of borrowers seeking to take advantage of the better rates and more regulatory authority in the industry.
Apply for a personal loan now. You won't be disappointed.
If you are looking for the best personal loans in the industry, don't look any further. At 1AP Capital, we promise to exceed your expectations by offering highly flexible products.
Talk to us today if you need a personal loan, and let us help you in any way we can. We're always ready for you. Call us now at +65 6533 5335 or simply click here to apply for a loan online now.