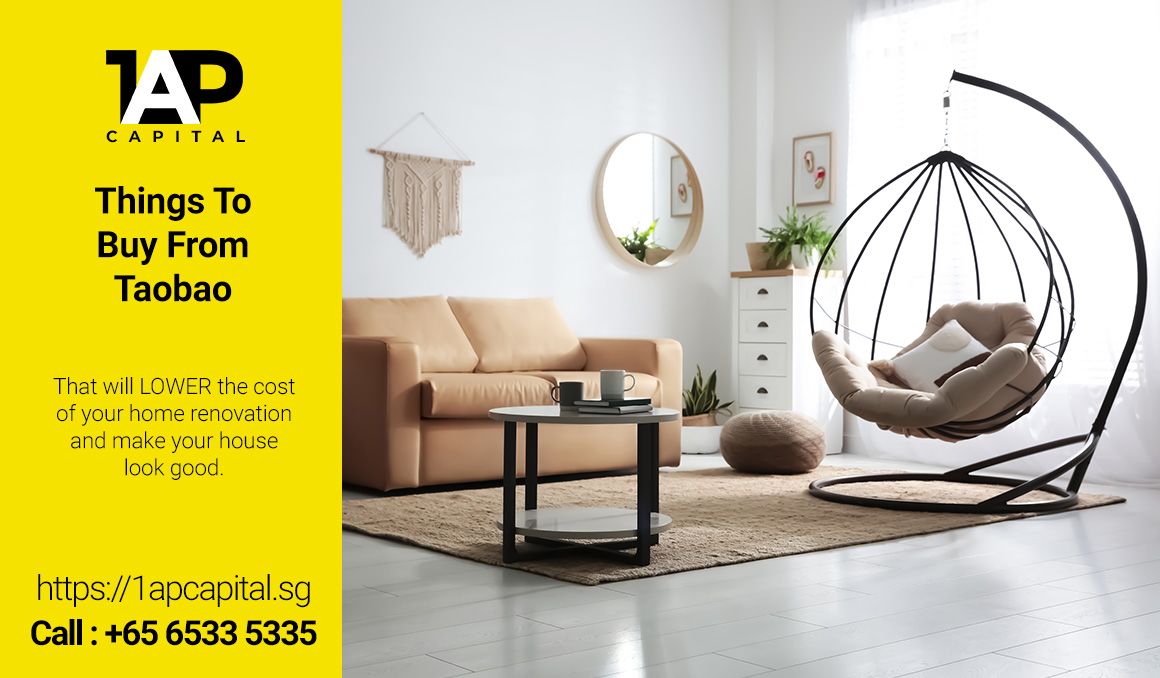 Renovating your home entails considerable expenses. Maybe you have to repaint the walls, deal with the pipes, or create some open plans. When you're through with these changes, your savings account is probably drained.
For some, they will choose to get an affordable home renovation loan to lessen the financial pressure.
For those who are still repaying their HDB housing loan, the last thing you want is to invest exorbitant amounts in furniture.
Besides, if your apartment is compact, you don't want to clutter it with unnecessary things.
That's why you need to browse the Taobao items below. You'll find multifunctional pieces that help you save a lot of money and space. And everyone knows Taobao is renowned for its wide variety and low price.
Pro tip: Before purchasing anything, consider your home's style. We'll help you along the way, telling you which design is best suited for these pieces below.
1. Handwoven Swing Chair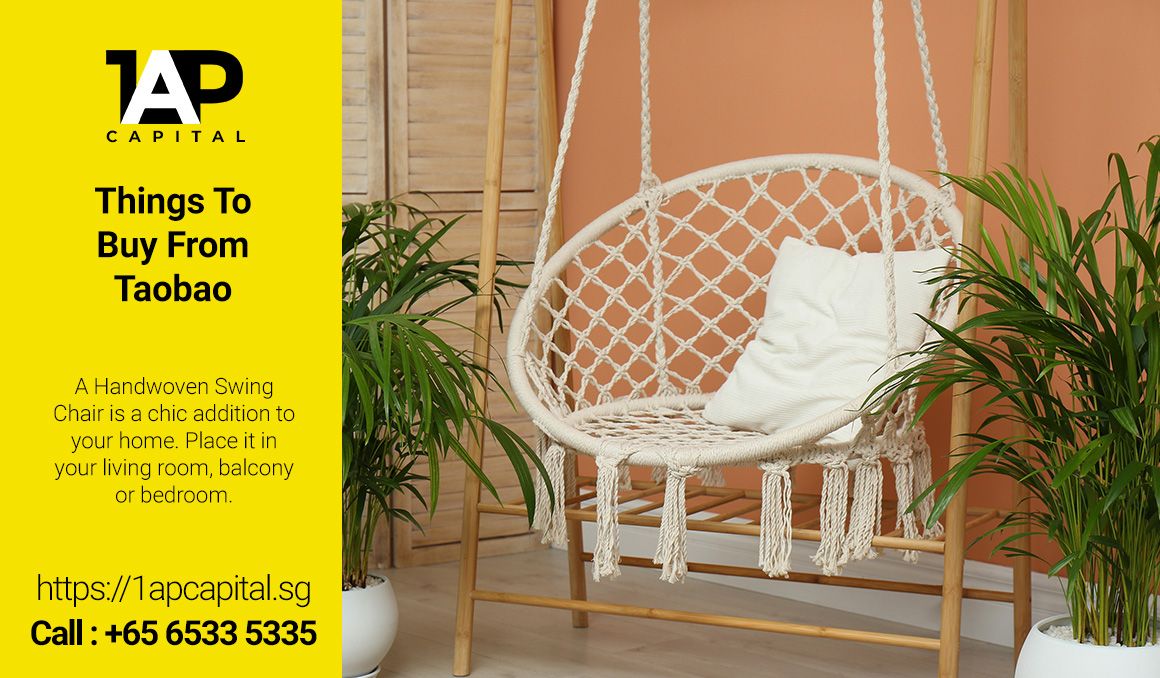 This Handwoven Swing Chair can complement various designs, such as rustic, BoHo, or even minimalist. It's a chic addition to your home, whether you install it on the balcony, your porch, or your living room.
In fact, this swing chair can save you a lot of space if you're living in a cramped home. Just imagine the multiple ways you could use it: a reading chair, meditation, or even as a baby cradle.
You'll also like the craftsmanship, as Indian craftspeople manufactured this model from natural hemp. That means it has a whole story behind it, plus bringing it into your home honours the work and traditions of Indian people.
2. Solid Wood Bed
This solid wood bed has a simple-line design that fits nicely into a minimalist or contemporary design home. But don't mistake the bed's straightforward shape as a mark of blandness.
You'll find multiple exciting details that make it stand out, such as the bedframe nook. Use it to store your essentials instead of cluttering the nightstands – it even features a handy socket to charge your phone.
3. Multipurpose Clothing Rack
This clothing rack goes well in most space-challenged homes and fits almost all decors. You can add it to a minimalist bedroom for a touch of youthfulness or purchase it for the lobby.
Unlike most similar-looking clothing racks, this one is exceptionally sturdy, and so it will support a lot of weight without tilting or collapsing. Use the incorporated mirrors to try on different clothes and to check how they look.
Hint: If you're using it for the lobby, add a touch of colour with a flower vase or some photos.
4. Modern Desk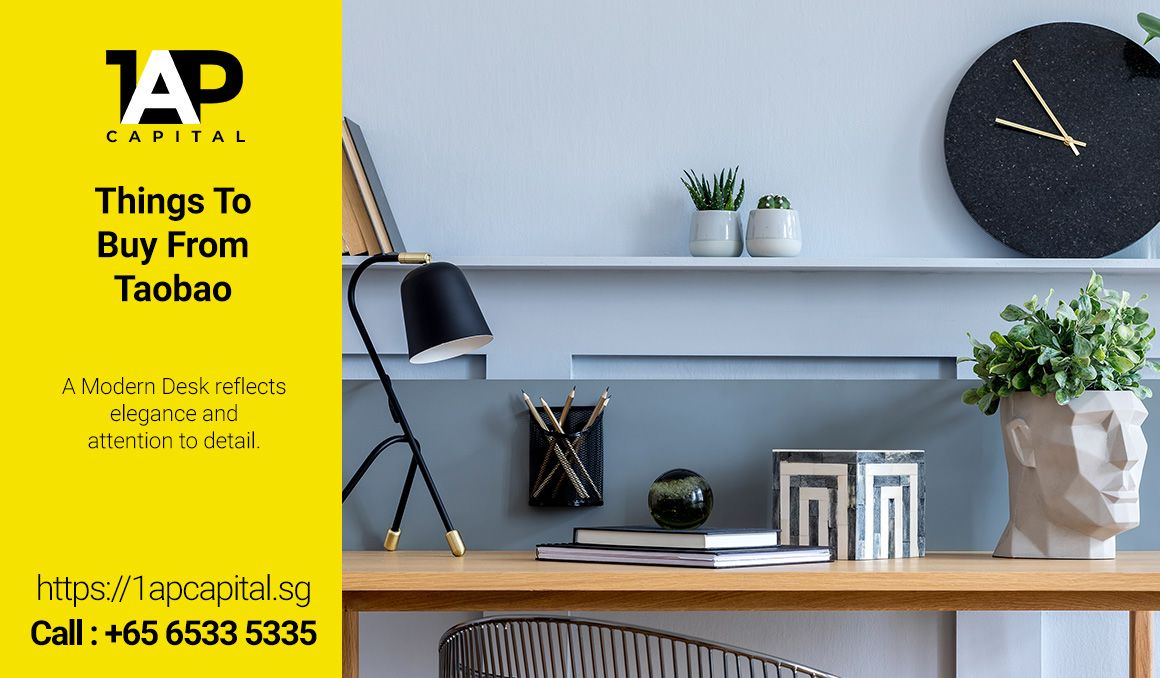 This desk fits a Modern-style or Scandinavian-like home thanks to its simple lines and neutral colours. Besides, it reflects elegance and attention to detail, starting from its slim build and ending with its slightly curved legs.
Consider this piece if you have a home study and want to declutter it. The Modern Desk has plenty of hidden storage compartments, which is surprising considering its slender design. But there's more: you have a wire slot that hides all the unpleasant-looking wires from your devices.
Hint: Fit it with a plush seat with similarly curved legs and place it on a white carpet to create just a mild contrast for your minimalist study room.
5. Leather Sofa
A leather sofa like this is an excellent addition to a contemporary-looking home because it's plush and earthy-toned without coming off as too austere. This sofa offers the right blend of bounce and support so that you can rest on it for hours without triggering your pressure points.
Add a touch of colour and create some focal points with colourful pillows or a throw blanket. This sofa fits well in a bright living room with light walls and white curtains.
6. Sugar Cube Corner Cabinet
This corner cabinet is well suited for a small bedroom or living room, upping the degree of cuteness a few levels. Besides, the three-level design is functional and stylish at the same time.
For example, you can use the bottom shelf for a romantic candle or a music player. The vertical rack is best for displaying your favourite magazines and books. If you like to read multiple books at once, you'll get why this is essential. Lastly, the upper shelf is the perfect place for a vase, a fruit bowl, or more books!
7. 'Wave' Cherry Wood Dining Chair
These dining chairs go well in a rustic dining room or a bohemian one. If you opt for a nautical home design, these seats will fit right in because of their curved shape and sea-green tapestry. Basically, the Wave Cherry chairs are highly versatile.
Another advantage is that they're compact but also very comfortable. Notice their curved ergonomic shapes and supportive seat pillows.
Besides, these chairs are value-for-money if you consider their wood manufacturing. Most other products you find in this price range are either too flimsy or too bulky, whereas these seats are the perfect blend of slim and sturdy.
8. VISA Solid Oak TV Console
This solid oak TV console is amazingly sturdy, but at the same time, chic and stylish. You can place it in a masculine-vibe home because of its rugged design and in a feminine interior thanks to its curved lines.
But there's more to the VISA TV console than its sleek design. This piece of furniture is convenient thanks to its hidden storage compartments. The ventilation is a functional addition as well, plus you can use the cable management holes for multiple devices.
9. Caren House Floating Shelves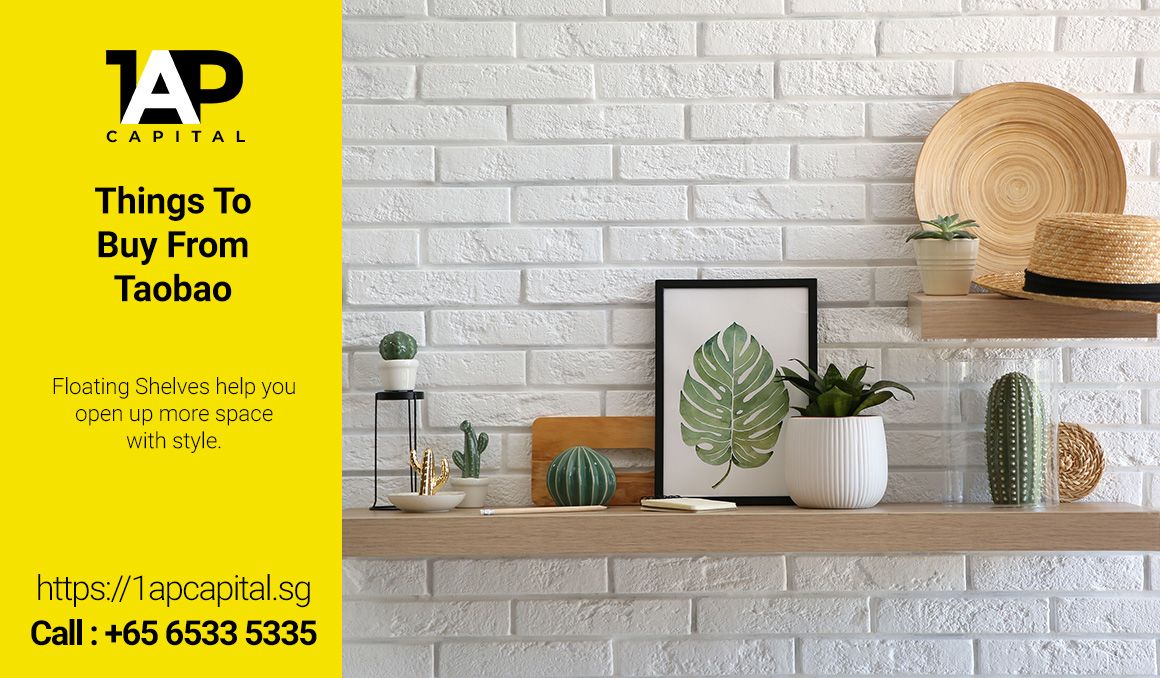 These floating shelves are just what you need if your goal is to reduce clutter in your home. Another advantage is that you'll be able to open up space because these simple-framed shelves don't take much space at all.
Besides, their trick-of-the-eye design attracts attention without any need for embellishment. So, if you want to banish all too-elaborate decorations from your minimalist home, these shelves can reflect your funky, fun personality without the unnecessary bling.
10. Foldable Bathtub
Foldable bathtubs from Taobao are famous around the world. It's an odd thing to find, but it's excellent if you've just moved into a place with a tiny bathroom. Most people would start browsing shower cabins or look at exorbitantly priced soaking bathtubs.
Instead, this foldable tub is easy to set up and use whenever you feel the need for a deep soak. When you're finished, store it perfectly upright in the corner of your bathroom.
11. Velvet Bed
The Velvet Bed is the perfect addition for people who love spending time in their beds even when they're awake. If that's you, you know how an uncomfortable wooden headboard can ruin your experience.
Instead, the Velvet Bed features a plush, sofa-like backrest.
Lean on it when you're enjoying your morning coffee or when you're reading a book before bed. If you're a breastfeeding mom, you'll appreciate this headboard's cushiony support during those long midnight feeds. Of course, this item would be perfect for people recovering from surgery who need to spend more time lying down.
Taobao is definitely the place to go if you're looking for useful and cheap furniture. It helps you to lower the cost of your furniture from hundreds to thousands.
Save Money From Taobao Or Get A Renovation Loan For Help
For those who need help with furniture purchases or with their home renovation budget, 1AP Capital offers low interest and fast loans to help with all sorts of situations. You can easily apply online here, with no obligations.
With a high 4.6 Google Review, we are confident of meeting your needs. Don't be shy, speak with us today!